03

Daily Sunscreen
Formulated to nourish and protect
the look you love for years to come.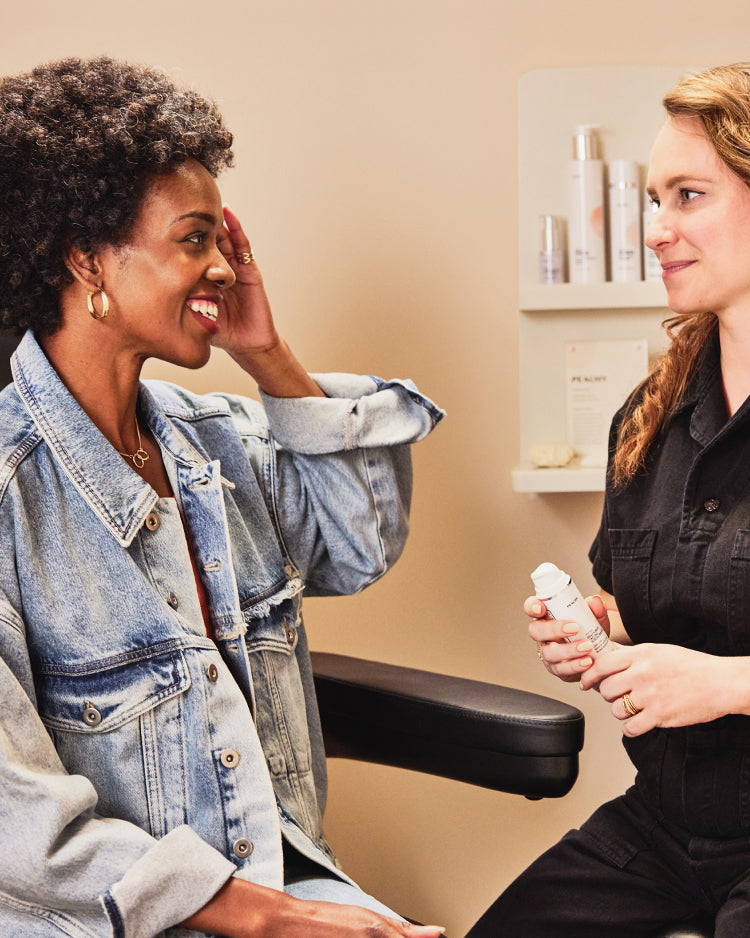 Counter aging
in skin
Pigmenting, wrinkles, sunspots – 80% of aging in skin stems from UV exposure. But broad-spectrum sunscreens effectively shield skin from photodamage, meaning fewer wrinkles and an all-around finer complexion over time.
Get hooked on SPF now to prevent the occasional fine line from becoming deep-set wrinkles later. And remember, the best sunscreen is the one you wear!
Daily defense that's light & moisturizing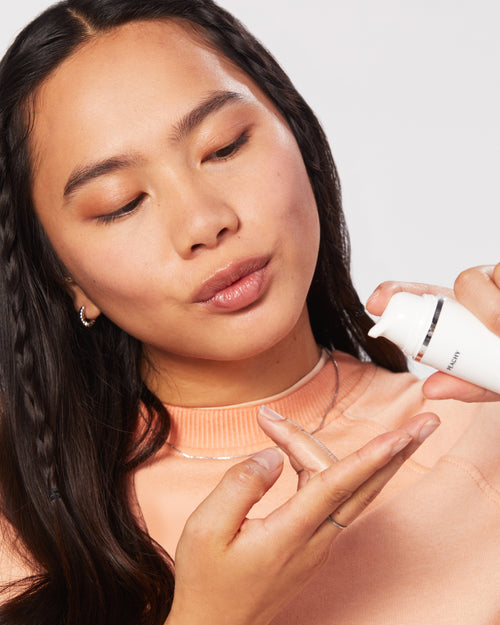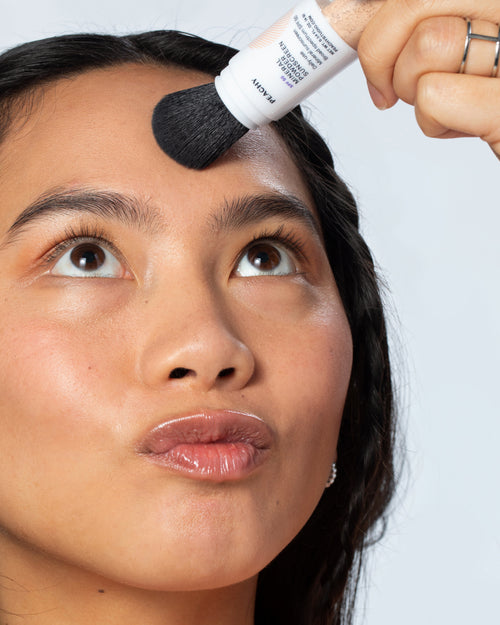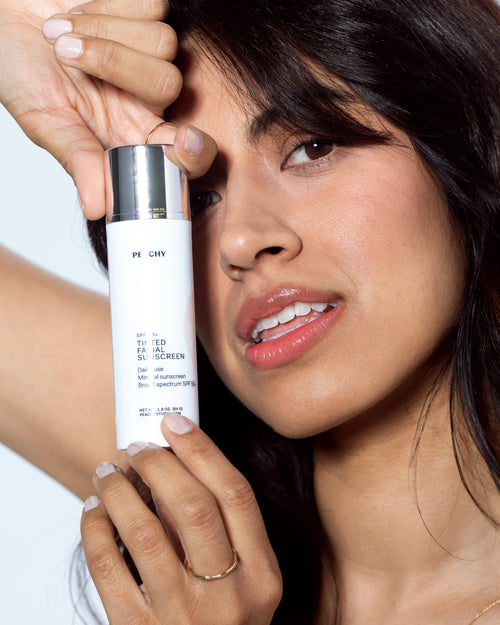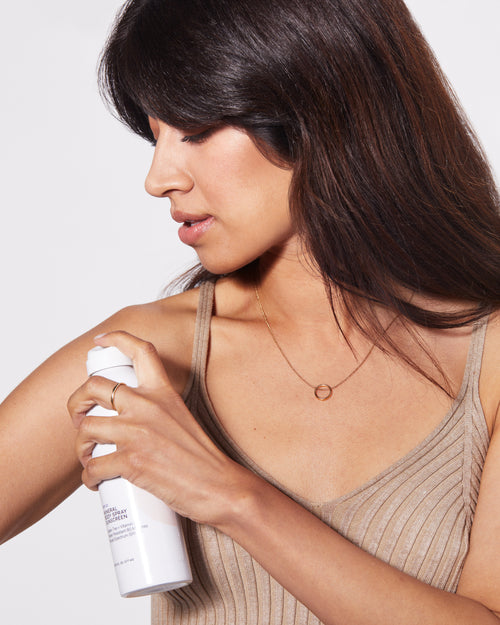 Even for
cloudy days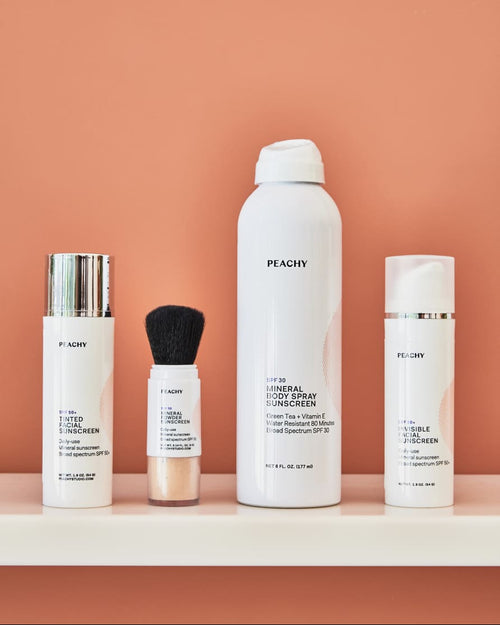 UV rays are a daily factor for skin, even when it's cloudy and cold! Premature aging from sun exposure starts within 3–5 minutes of being outside: well before you'd notice a burn forming. Using SPF early and often is the best way to keep wrinkles out of skin.
Use broad-spectrum SPF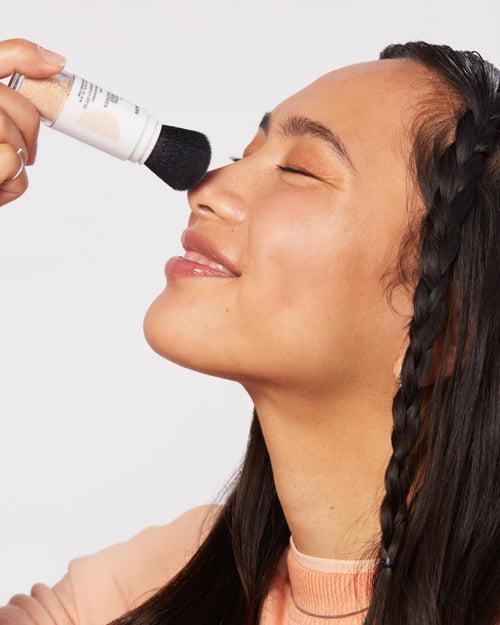 To protect against both UVB and UVA rays, a broad-spectrum sunscreen is essential. But after SPF 50, it doesn't statistically increase your UVB protection and may actually pose a health risk! A SPF 30–50 is ideal even if you're more prone to burning.
Premium protection for every face
Beyond just prevention
Sunscreen acts as a protective barrier to shield your skin from both the short-term and long-term effects of UV exposure. Recent studies have even shown that the benefits of daily-use sunscreen extend beyond just prevention!
Sunscreen the safe way
Physical filters found in mineral sunscreen reflect and scatter UV light. This kind of sunscreen sits on top of your skin, reflecting the rays away. Since they are not absorbed into the bloodstream, the FDA recognizes them as safe.

Transparent pricing, always
Daily Sunscreen
Tinted, Invisible, Powder & Spray – all broad-spectrum and completely mineral-based.
Smooth, weightless, matte finish
Fortified with antioxidants
Suited for all skin types
100% vegan and cruelty-free
Questions?
We've got answers
What is photoaging?
Photoaging is premature skin aging that results from prolonged and repeated exposure to sunlight. Clinically, photoaging manifests as fine and coarse wrinkles, sun spots, and loss of skin elasticity. The best way to prevent the effects of photoaging is to wear broad-spectrum sunscreen every day!
Are all of Peachy's sunscreens zinc-based?
Every last one of them. And for good reason! In 2019, a trial published in JAMA examined bloodstream levels for ingredients commonly found in chemical filter sunscreens. There researchers found a number of key ingredients at a higher concentration than previously thought – though they did conclude that sunscreen should still be worn daily.
While follow-up studies are underway to better understand the implications, we prefer to err toward what's well-understood and proven to work.
Should I use sunscreen every day? Even in winter?
Yes! Study after study has shown daily sunscreen minimizes damage and aging in skin. It can even reverse damage! One study in 2016 did a comparative examination of skin where subjects used sunscreen everyday. In one year, subjects showed broad improvement in all aging parameters – including fewer fine lines and changes in pigmentation!
I have oily, combination skin. What's the best sunscreen for me?
Oil-free, non-comedogenic sunscreen would be best! Our mineral powder sunscreen is a choice pick, since it's mattifying and helpful for oily skin. It's lightly tinted to provide natural coverage, and contains an antioxidant blend to soothe and protect skin from sun damage.
What makes Peachy's sunscreen different from other brands?
Every product including our sunscreens are formulated with simplicity and effectiveness in mind. That means decades of research and testing to ensure what you're putting on your skin is both safe and proven to work. All sunscreens at Peachy are broad-spectrum and mineral-based without any harsh chemicals.
Can I buy Peachy's sunscreen from a studio?
Better together
Wrinkle relaxers prevent wrinkles from advancing, retinoids diminish existing lines by building back collagen, and daily sunscreen ensures you protect the look you love for years to come.
Wondering if preventative botox is right for you?
We keep consults complimentary for precisely this reason! Come to any of our studios to meet with a Peachy Provider and see what it's like to live your look without the lines.
Book your visit